Re: New contribution N2676
From: Raymond Mercier (raymondM@compuserve.com)
Date: Sat Oct 25 2003 - 10:51:53 CST
---
Among the new characters in N2676 there is

10186 G GREEK ARTABE SIGN

This is one of the many signs found in papyri, such as those edited by
Kenyon. This symbol represents apparently a measure of volume used for
grain. It appears as a small circle, smaller than omicron, with a long
overline, much longer than a macron.

While I have been looking for the various forms of the symbol for zero I
find in other papyri quite exacty the same character used for 'zero'. I make
this comparison after studying many photographs of papyri, those provided
with Kenyon's editions on the one hand, and on the other, Alexander Jones'
recent volume of horoscopes, Astronomical Papyri from Oxyrhynchus.
The attached image is take from Jones, part of a column of zeroes written
this way.

Raymond Mercier

> ----- Original Message -----
> From: "Michael Everson" <everson@evertype.com>
> To: <unicode@unicode.org>; <unicore@unicode.org>
> Sent: Friday, October 24, 2003 7:36 PM
> Subject: New contribution N2676
>
>
> >
> > A new contribution:
> > N2676
> > Repertoire additions from meeting 44
> > Asmus Freytag
> > 2003-10-23
> > http://www.dkuug.dk/jtc1/sc2/wg2/docs/n2676.pdf
> >
> > --
> > Michael Everson * * Everson Typography * * http://www.evertype.com
>

---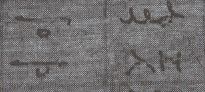 ---
---
This archive was generated by hypermail 2.1.5 : Thu Jan 18 2007 - 15:54:24 CST