Re: Using combining diacritical marks and non-zero joiners in a name
From: Otto Stolz (Otto.Stolz@uni-konstanz.de)
Date: Mon Apr 14 2008 - 09:42:14 CDT
Next message:
JFC Morfin: "Re: VS: "French+" support by Unicode"
---
Hello Andreas Prilop,

I had written:
> OK. I'll try it again, with the browsers
> - Firefox 2.0.0.13
...
> - IE 7.0.5730.11
> and the fonts:
> - proportional: TITUS Cyberbit Basic 3.0
...
> With this setup, I can spot no difference between the
> three browsers' rendering of your examples.

Andreas Prilop schrieb:
> Everyone but you can see:
> Internet Explorer À = À à = à
> Firefox A` = À a` = à

Apparently, you cannot judge my Firefox from yours ;-)
Cf. attached screenshots (colours reduced to 4 bit, in
order to save bandwidth). I have excluded IE6, because
here it runs on a different system, and I have thrown in
Opera 9.10, Build 8679, to complete the picture. Really,
I cannot spot any difference, particularly not the mis-
placed grave accent you are reporting, for Firefox.

I guess, you will have to double-check your Firefox
implementation.

It would have helped much, if you had reported, in the 1st
place, the differences you are seeing, rather than telling
everybody to look on their respective screens.

Thank you for your corrections w.r.t. IE's font settings, and
the difference between IE6's and IE7's handling of characters
missing in the selected font.

Best wishes,
Otto Stolz

---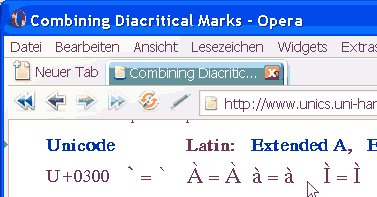 ---
---
---
---
This archive was generated by hypermail 2.1.5 : Mon Apr 14 2008 - 09:46:33 CDT