From: Karl Pentzlin <karl-pentzlin_at_acssoft.de>
Date: Wed, 14 Sep 2011 00:55:20 +0200
Am Mittwoch, 17. November 2010 um 18:18 schrieb André Szabolcs Szelp:

ASS> AFAIR the reservations of WG2 concerning the encoding of Jangalif
ASS> Latin Ь/ь as a new character were not in view of Cyrillic Ь/ь, but
ASS> rather in view of its potential identity with the tone sign mentioned
ASS> by you as well. It is a Latin letter adapted from the Cyrillic soft
ASS> sign, like the Jangalif character. Function, as you point out, is not
ASS> a distinctive feature. The different serif style which you pointed out
ASS> cannot be seen as discriminating features of character identity,
ASS> especially not in a time of bad typography (and actually lack of latin
ASS> typographic tradition in China of the time).

Thus, would it be appropriate to change the representative glyphs for
U+0184 LATIN CAPITAL LETTER TONE SIX
U+0185 LATIN SMALL LETTER TONE SIX
to the glyphs used for Cyrillic Ь/ь, i.e.
U+042C CYRILLIC CAPITAL LETTER SOFT SIGN
U+044C CYRILLIC SMALL LETTER SOFT SIGN ? (see fig. 1)

The only examples of the old Zhuang orthography which I found on an
Internet search (see fig. 2-4) show:
- The typical feature of the current glyphs - the triangle-shaped
serif at the top - is shown in fig. 2 and 4 but not in fig. 3.
As fig. 3, showing a detail of a banknote, is a considerably
"official" example, the triangle-shaped serif is a glyph variation
rather than an intrinsic feature of the character identity.
- The small letter shows x-height in all cases (in fig. 2, it extends
this only slightly). Thus, the cap height of the representative
glyph is a candidate for revision anyway.

With this evidence, the glyph change as shown by fig. 1 seems
reasonable.
If this is done, the TONE SIX letter in fact is identical to the Latin
letter Ь/ь which is the Jaꞑalif equivalent of the Turkish dotless i.
Then, this can be expressed by appropriate annotations in the
character list.

- Karl


--
Fig. 2:  http://www.worldlanguage.com/Languages/Chuang.htm
Fig. 3:  http://en.wikipedia.org/wiki/File:Zhuang.PNG on
         http://en.wikipedia.org/wiki/Zhuang_language
similar: http://www006.upp.so-net.ne.jp/FFS/zhuangyu_ch00.htm
Fig. 4:  http://hub.hku.hk/bitstream/10722/31897/1/FullText.pdf , p.86, from
         http://hub.hku.hk/handle/10722/31897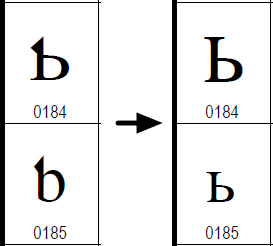 Received on Tue Sep 13 2011 - 18:01:37 CDT