Re: Zero-width joiner won't join
From: Otto Stolz <Otto.Stolz_at_uni-konstanz.de>
Date: Tue, 06 Mar 2012 17:43:08 +0100
Hello,

on 3/5/2012 10:25 AM, Andreas Prilop wrote:
> I think the zero-width joiner (ZWJ, U+200D) should join
> regardless of typeface. But Internet Explorer 8 won't join
> if the ZWJ is taken from another font than surrounding text.

Am 2012-03-05 23:49, schrieb Asmus Freytag:
> My question would be this: do you know of any browser that can handle
> your test case?

Firefox 10.0.2 apparently does it right;
Opera 10.52 does a half-hearted job;
and Internet Explorer 8.0.6001.18702 completely screws it up.
Cf. attached screen shots.

Best wishes,
Otto Stolz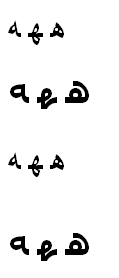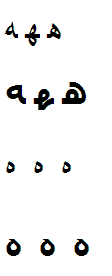 Received on Tue Mar 06 2012 - 10:46:34 CST
This archive was generated by hypermail 2.2.0 : Tue Mar 06 2012 - 10:46:35 CST