Next message:
James Kass: "Re: Punjabi font name in Windows XP"
---
> From: Philippe Verdy [mailto:verdy_p@wanadoo.fr]
> Sent: Saturday, March 18, 2006 6:38 PM

> script, IE performs a fast check on the text to see if the font used in
> the parent element is "usable" to render the anonymous text element. It
> only checks for the script types claimed by this current font...

> And there still remains a bug in IE, within its "fast check" algorithm for
> determining if font switching must occur...

I'm completely unable to reproduce your problems: if I select Arial =
Unicode MS as my Latin-script font, the Bengali (for instance) on your =
page still displays correctly.

> Unfortunately, "Arial Unicode MS" pretends supporting Bengali, Oriya,
> Telugu and Malayalam (for Oriya, it just contains the national digit
> characters, and for the 3 others it has enough glyphs but lacks the
> OpenType layout and shaping tables).

Your statement about Oriya and only "national digit characters" is simply incorrect, as evidenced by the attached screenshot.

> In other words, no font should mix simple scripts and complex scripts,
> unless complex scripts are fully supported. Arial Unicode MS (and a few
> others like Tahoma regarding Arabic and Hebrew scripts) is such a
> defective font

Tahoma supports Hebrew and Arabic - it is not a "defective font".

> Such bug does not occur in Notepad, only because it uses a single font
> context for the whole document, and it uses font lookup only for fallbacks
> of base characters without glyphs in the current font. So there's no "fast
> check" performed prior to render the text. However the Notepad
> implementation, if it is accurate, is very slow to render in the case of
> many fallback with the selected font.

You have a penchant for making uninformed and erroneous statements as though you really knew what you were talking about.

Notepad does not have *any* logic for doing any kind of script or =
character fallback.

Just out of curiousity I copied your web page with charts for 0000-0FFF and pasted it into Notepage on XP with it set to display using a font that supports only Oriya and Latin-1: there was no noticeable delay, and the system displayed all of the scripts except for Lao and Tibetan, which aren't supported on XP.

Peter Constable

---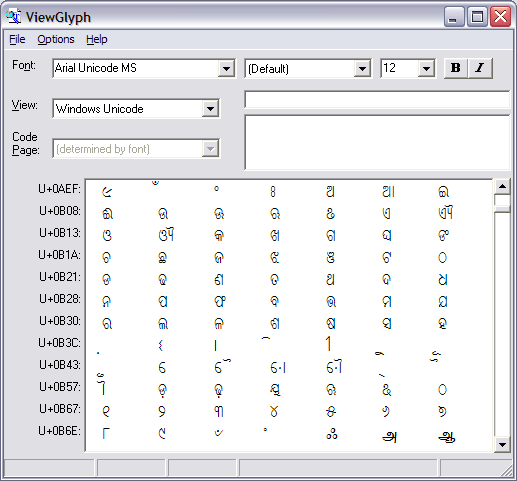 ---
---
This archive was generated by hypermail 2.1.5 : Sun Mar 19 2006 - 16:06:32 CST