Re: Dotless J with stroke.
From: John Hudson (john@tiro.ca)
Date: Tue Nov 20 2007 - 15:14:13 CST
Next message:
Wunna Ko Ko: "Re: Myanmar picker updated to cover Unicode 5.1"
---
Russ Stygall wrote:

> U+025F (LATIN SMALL LETTER DOTLESS J WITH STROKE) is incorrectly
> described as "typographically a turned f ", since the stroke/bar of 'f'
> is at 'x-height', which when turned would have the stroke/bar on the
> 'baseline'. 'Dotless J with stroke', as illustrated in Unicode 5.1, is
> at half 'x-height'!

I have other questions about the design of this letter. Should it, in fact, be a j with a
bar (the bar at the half-x-height as in the barred i)? Or should it be a turned f with the
bar repositioned? Depending on the design of the typeface, it is not unusual for the
descender terminal of the j to be very different from the ascending terminal of the f, so
this character could look very different depending on the answer to this question (see
attached).

Of course, the dotless barred j form shown in the graphic is also going to be necessary as
a glyph variant for soft-dotted U+0249

John Hudson


-- 
Tiro Typeworks        www.tiro.com
Gulf Islands, BC      tiro@tiro.com
I'm like that Umberto Eco guy, but without
the writing.   -- anonymous caller


---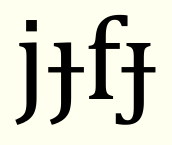 ---
---
This archive was generated by hypermail 2.1.5 : Tue Nov 20 2007 - 15:17:19 CST