Encoding of Teuthonista: Diacritics in parentheses
From: Karl Pentzlin (karl-pentzlin@acssoft.de)
Date: Thu Oct 30 2008 - 14:39:54 CST
Next message:
Karl Pentzlin: "Re: Encoding of Teuthonista: Diacritics in parentheses"
---
When it comes to encoding on Teuthonista:
http://www.sprachatlas.phil.uni-erlangen.de/materialien/Teuthonista_Handbuch.pdf
there are besides other interesting things) diacritical marks in
parentheses.
See the attached examples:
diacriticsinparens.png from the link above
diacriticsinparens2.png from [1], p.80

Is my assumption correct that it is not advisable to propose
two characters
COMBINING PAIR OF SUBSCRIPT PARENTHESES
COMBINING PAIR OF SUPERSCRIPT PARENTHESES
as this would lead to problems regarding their combining class
assignment?

Thus, is it correct to advise to encode the possible combinations
as single characters, like
COMBINING DIAERESIS IN PARENTHESES
COMBINING DOUBLE STRAIGHT HOOK (or whatever) BELOW IN PARENTHESES
and so on?
This would be simpler to implement anyway.

I will participate next week (2008-11-05) a workshop "Transcription
systems and UNICODE" in Vienna (see the announcement on this mailing
list, and http://www.oeaw.ac.at/dinamlex/programm20081105.pdf ).
There, the encoding of Teuthonista will be discussed.
Thus, I appreciate any hints which will enable me to make precise
statements instead of just speculating.

Thank you.

- Karl Pentzlin

[1] Hotzenköcherle, Rudolf: Einführung in den Sprachatlas der
Deutschen Schweiz.
Volume B: Fragebuch - Transkriptionsschlüssel - Aufnahmeprotokolle
Bern, 1962


---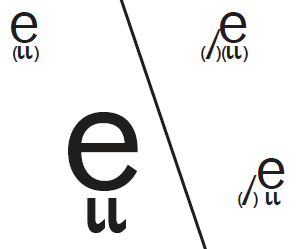 ---

---
---
This archive was generated by hypermail 2.1.5 : Thu Oct 30 2008 - 14:44:33 CST