Next message:
Peter Constable: "RE: Adding new emoji (from Re: Twitter started supporting emoji in Japan)"
---
Andreas,
Nice stories! And "pentagram" is a very appropriate name for the art form.

As one who has written poetry in English I am very concerned with the spatial arrangement of words on the page. William's original idea was 2/3/2 on one line with a space between groups. I tried that, and it didn't work for my material. My pentagram "Hurricane" may be translated as three fragments, rather than 1 continuous thought. This is more like a haiku.

[cid:008525117@28102009-0583]
"We had a hurricane, and it rained.
The sea was rough and we were hit by a great wave: I was terrified.
Then the sun came out; at night the stars shined brightly."

Your pentagrams strike me as one continuous thought. Take your "Escapade" which really works well as one line of 5 emoji:

[cid:008525117@28102009-058A]
Excuse me if I mistranslate, but I read it as roughly:

"I bought tickets and flew on a plane and cruised in a boat, had dinner and went to bed."

I think the beauty of a new art from is that we can make our own rules: We do that now in modern versus classical poetry. I say WHATEVER FORM WORKS for what you are trying to communicate!

Regards,
Clive

Clive P. Hohberger, PhD

cph13@case.edu<mailto:cph13@case.edu>

chohberger@zebra.com (retired)

________________________________
From: Andreas Stötzner [mailto:as@signographie.de]
Sent: Wednesday, October 28, 2009 4:57 AM
To: Hohberger, Clive
Cc: unicode@unicode.org
Subject: "Pentagram" as an art form

Am 27.10.2009 um 21:30 schrieb Hohberger, Clive:

Nice challenge, William. In response, I offer my first try:

e-005 e-002

e-035 e-038 e-341

e-00F e-03B

The visual "emoji poemu" construct is shown in the attached Word document.
I used SnagIt v8 to copy the emoji from n3681.pdf
Nice idea!
This is bordering between the literal and the visual arts. Therefor the structure of Haiku (or Limerick?) taken as a blueprint might not be without any alternative.
I tried myself and found a slightly different format favourable: just 5 pictograms in line.

WAY IN WAY OUT

________________________________
- CONFIDENTIAL-

This email and any files transmitted with it are confidential, and may also be legally privileged. If you are not the intended recipient, you may not review, use, copy, or distribute this message. If you receive this email in error, please notify the sender immediately by reply email and then delete this email.

---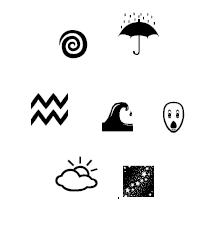 ---
---
---

---
---
This archive was generated by hypermail 2.1.5 : Wed Oct 28 2009 - 12:29:49 CST