separate code positions for Malayalam 'chillu' characters
From: K.G Sulochana (sulochana@erdcitvm.org)
Date: Wed Feb 12 2003 - 04:17:51 EST
Next message:
Azzedine Ait Khelifa: "RE : Unicode and Encoding Problems in Browsers"
---
Hello,

It is proposed that the five pure consonants (Chillu characters) in Malayalam
( )be given separate code positions in Malayalam Unicode block. In ISCII based applications, three keys are used to form each of these characters as shown below.

These characters are used/occur widely in Malayalam writing (about 10% in normal writing).

Also NUKTA (NUK) is not a character in the Malayalam Script and not represented in Malayalam Unicode.

I would like to have expert opinion on this.

K.G.Sulochana
Malayalam Resource Centre,
ER&DCI, Thiruvananthapuram.
KERALA, INDIA

______________________________________
Scanned and protected by Email scanner

---

---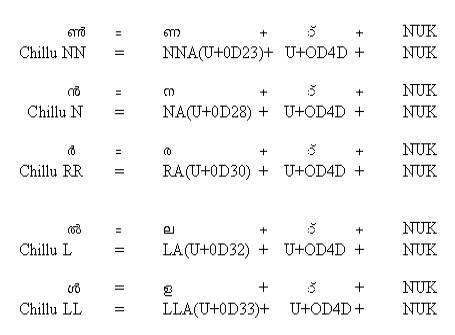 ---
---
This archive was generated by hypermail 2.1.5 : Wed Feb 12 2003 - 05:12:05 EST